Tennant Creek Accommodation, Hotels, Tours & Information
Other regions in NT
Places in Tennant Creek
Connors Well (Tourism NT)
Tennant Creek
The old goldmining town of Tennant Creek is situated 500 kilometres north of Alice Springs. The town's goldmining history remains, and is captured at sites around the town such as the Battery Hill Mining Centre.

The rugged and beautiful landscape south of Tennant Creek is sweeping plains of golden grassland and home to the Devils Marbles. These huge granite boulders are scattered through a valley and glow a rich red in the light of the early evening.

Touring the Red Centre gives you an appreciation of the vast and unspoiled wonders of Australia's interior.
Tennant Creek Map
Loading map, please wait...
Tennant Creek Map - Legend
Multiple Hotels
Hotel
Click on the map markers for more information. Hover over the map to zoom in & out or see satellite & terrain views.
Tennant Creek: Where To Go / Sightseeing
Powell Creek Telegraph Station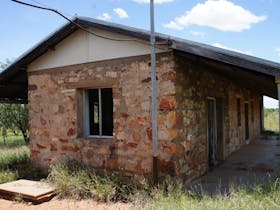 The site includes a number of features including three buildings, a grave, line of telegraph poles, artefact scatter and a well. The main building, constructed between 1875 and 1884, has a hip roof, central core of four rooms surrounded by a partly enclosed verandah with a detached ablution block located to the west of the building. Prior to 1884 the second wing of the original station complex was lost or demolished and the current building constructed to replace it. The second wing is a three-roomed random rubble structure with skillion roof that has been extended with stone and stud walls to create an extra three rooms. A verandah is located on the eastern side of the building. The final building comprises a three-roomed random rubble structure with a cgi gable roof and verandahs on the western and eastern sides that were added at a later date.
,
Lot 5988, Pamayu (Approximately 200km north of Tennant Creek, on Powell Creek Station).
Tennant Creek, NT, 0860
Located 0.2K from Tennant Creek
Banka Banka Mud Hut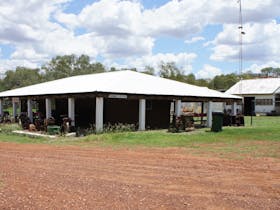 The homestead is a single storey, rectangular building measuring about 6.9m x 10.6m with a pitched roof consisting of a timber roof frame and corrugated metal roof sheeting, mudbrick walls, concrete floors, surrounded by a 2.7m wide verandah supported by concrete posts. The building consists of three rooms, each measuring about 3.1m x 6.3m; one is used as a bar/kiosk, and the remaining two rooms are currently empty.
,
Lot 7048 Tablelands, (14930 Stuart Highway, Barkley Shire).
Tennant Creek, NT, 0860
Located 0.2K from Tennant Creek
Bonney Well
Bonney Well is one of only three remaining stock wells on the North-South Stock Route with stone dumps intact. The Well and associated remains are a good representative example of a government-built stock well constructed during the late 19th century. First dug in 1878-79 by the expedition overlanding cattle and sheep to Springvale by Arthur and Alfred Giles, Bonney Well was deepened between 1883 and 1884. A stone dump and whip system were added in 1892. The whip system no longer remains but the stone dump, tank stand and evidence of the location of troughing from this era are present. The bore, windmill and tank installed in the late 1930s and a later cement tank provide a good example of that era in the Territory's industrial heritage when bores replaced wells as the principal means of water supply for stock.
,
Lot 1700 Warumungu, (8624 Stuart Highway, Barkly Shire).
Tennant Creek, NT, 0860
Located 0.2K from Tennant Creek
Attack Creek Historical Reserve Memorial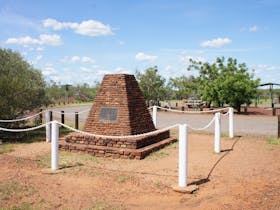 Named by John McDouall Stuart following a rare confrontation with Aborigines over dwindling water supplies in 1871, Attack Creek is marked by a road-side memorial stonework cairn surrounded by a steel post and chain fence. A rest/camping area has been established near the memorial for travellers along the Stuart Highway.
,
Memorial alongside Stuart Highway, 74 km north of Tennant Creek.
Tennant Creek, NT, 0860
Located 0.2K from Tennant Creek
Nyinkka Nyunyu Art and Culture Centre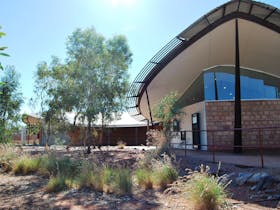 Nyinkka Nyunyu (pronounced ny-ink-a ny-oo ny-oo) is a fascinating art centre/gallery and culture museum, which provides visitors the opportunity to immerse themselves in local Warumungu culture, to learn about Aboriginal life, history and land in the Tennant Creek region.
Located on Warumungu land, on the main street of Tennant Creek, the centre's focus is the sacred site of the Nyinkka (spiky tailed goanna). Surrounding the sacred site are arid-zone gardens featuring local bush tucker and bush medicine plants. A visit through the museum interprets uses of these plants, along with a selection of displays handcrafted by Warumungu artists to reflect their rich and diverse history. Museum entry includes an audio tour which also takes you out through the aridzone gardens, interpreting the plants and the landscape through Aboriginal eyes.
Follow your tour with a relaxing visit to Jajjikari Cafe, renowned for good coffee, then browse the local artwork, crafts, books and CDs in the retail area. One of the key benefits of a visit to our Centre is the chance to mingle with knowledgeable local Warumungu, who will take the time for a chat with you. We welcome you to learn about our ways, and look forward to meeting you!
13 Paterson Street (Stuart Highway)
Tennant Creek, NT, 0860
Located 0.3K from Tennant Creek
Tennant Creek Cemetery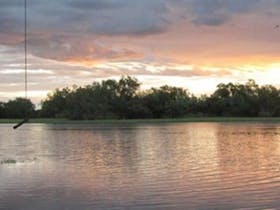 Take the time to wander through the Tennant Creek Cemetery to see the resting place of early pioneers who travelled the long and lonely Overland Telegraph track. Their plaques and headstones reveal the stories of their hardships and battles with the harsh Australian environment.
Plaques on the headstones and ornamental gate tell the story of battles with the elements and the tragedy of days gone past. The Tennant Creek Cemetery is located south of town. It is suggested you allow at least an hour to view this attraction.
A distinctive arch spans the gateway, spelling out the cemetery name. If you are interested in pioneering histories and local stories, make this fascinating stop in the town of Tennant Creek.
Stuart Highway
Tennant Creek, NT, 0860
Located 0.7K from Tennant Creek
Iytwelepenty / Davenport Ranges National Park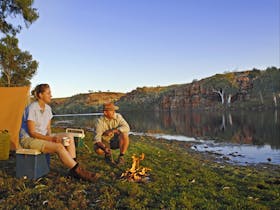 A place of quiet beauty, the Iytwelepenty / Davenport Ranges National Park encompasses 1,120 square kilometres of the Davenport Ranges, east of Alice Springs. The park is bordered by the pastoral leases of Elkedra, Kurundi, Murray Downs, and Singleton Stations and the Anurrete Aboriginal Land Trust.
Explore via one of the many walking tracks within the park. See the Amelia Creek crater, an eroded remnant of a former impact crater. Pitch a tent at one of two camping spots, and have a swim at the Old Police Station Waterhole. This Waterhole can be reached via Kurundi/ Epenara (high clearance vehicle required) or alternatively via the Taylor's Creek track (four-wheel drive vehicle required). Four-wheel drive enthusiasts can test their skills on some very demanding tracks. Look for water birds in this important refuge, and discover the ecological importance of this network of waterholes.
Learn about the strong and extensive Aboriginal associations with the area. The Davenport Ranges mark the boundary between the traditional lands of the Warumungu, Alyawarre and Kaytetye people. Artefacts relating to earlier occupancy remain and 'Dreamtime' or creation stories remain strong among Aboriginal people who retain traditional associations with the land.
Stuart Highway,
via Bonney Springs or Taylors Creek
Tennant Creek, NT, 0860
Located 1.1K from Tennant Creek
Tennant Creek: Events
NT Travelling Film Festival - Tennant Creek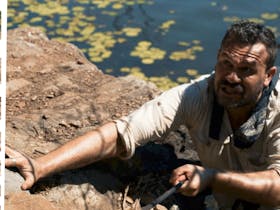 Join us in Tennant Creek for this iconic screening under the stars. Share in the NTTFF program, as well as local shorts from the young people living in Tennant Creek area, as well music videos from the Barkly Arts archive.
NTTFF celebrates and showcases the outstanding short film, television and video productions from the NT, capturing the stories, culture and landscape of our iconic region and the people that call it home. We will be on the road across May and June with a solar cinema and popping up across the NT.
Tickets are $12 and can be purchased online.
Gates open 7pm. Program starts at 7:30pm.
Deckchair seating available but please feel free to bring picnic blankets.
NO BYO. Food and soft drink will be available to purchase.
Event Dates
2018
      26th May
65 Staunton Street
Tennant Creek, NT, 0860
Located 0.7K from Tennant Creek
Desert Harmony Festival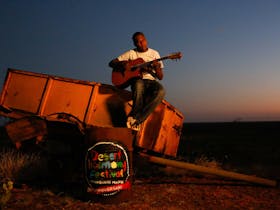 The Desert Harmony Festival is hosted by Barkly Regional Arts on Warumungu lands (Tennant Creek, Northern Territory). Our predominately Aboriginal community members travel across the arid landscape to enjoy 5 days of music, dance, art, film, food, theatre, workshops, tours, sports and cultural activities.
In 2018, the Festival will be held from Friday 3rd to Tuesday 7th of August.
The Festival program is a healthy combination of professional and locally produced work which showcases the talents in the Barkly region, community performances and Australian productions which travel to collaborate with local artists on truly unique shows.
Our 29th Festival will focus on the theme of 'Place and Belonging'.
This is an opportunity to understand Tennant Creek and the Barkly region, to learn about and immerse yourself in Indigenous culture, and experience the beauty we see every day in Outback Australia.
The Desert Harmony Festival is for everyone, especially for those seeking an adventure in a VERY remote Australian destination.
Event Dates
2018
      3rd Aug
      4th Aug
      5th Aug
      6th Aug
      7th Aug
65 Staunton Street
Tennant Creek, NT, 0860
Located 0.8K from Tennant Creek
Tennant and Districts Show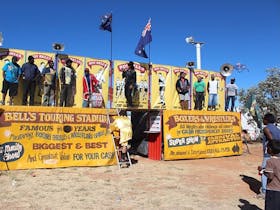 Share the excitement of the Tennant and Districts show.
With all the side show rides, competitions and displays you're used to seeing in a regional show, the Tennant Creek Show is a fun day out for all the family. There's always something to see and learn with the displays and plenty to do and buy, including the always popular sides show alley games, show bags and food.
The cattle and dog sections continue to attract much interest from all over Australian and there's always new attractions for the kids too.
Event Dates
2018
      13th Jul
Perry Drive
Tennant Creek, NT, 0860
Located 1.2K from Tennant Creek